No matter your taste or budget, Kalispell has a variety of dining options that are sure to please your palate. From bakeries to breweries and farm-to-table restaurants, Kalispell has an array of places to taste Montana. As you explore our mountain town, you'll likely see a few recurring themes and flavors making their way into a variety of dishes, particularly huckleberries and Flathead cherries.
Taste Montana
Ask any local in Kalispell where to eat and you'll be greeted with a slew of recommendations, from baked artisan breads and sweet potato sticky buns from Ceres Bakery to perfectly tossed pizza at Moose's Saloon and huckleberry-filled milkshakes at Norm's Soda Fountain. For Montana-inspired flavors, try the bison, elk and yak burgers at Hops Downtown Grill or head to Mercantile Steak for a bison ribeye or wagyu zabuton, perfectly paired with a quality wine list. Rounding out local restaurant offerings: mouth-watering BBQ at DeSoto Grill, bangers and mash at Brannigan's Irish Pub, or delectably seared paninis at Bonelli's Bistro. And honestly, that's just the beginning. 
Farm-to-Table
With our location in the heart of the Flathead Valley, Kalispell's heritage is firmly rooted in agriculture and ranching. Today's culinary landscape consists of community gardens, local farms and plentiful farmers markets, as well as restaurants and grocers who carry local products. A few local farm-to-table favorites: Kalispell Kreamery's cream-on-top milk, Greek yogurt and ice cream; and local elk, bison, beef, lamb and pork from Lower Valley Meats, Farm to Market Pork and The Rancher's Daughter.
And while there are many flavors and products that could exemplify Montana's culinary offerings, there are two that stand out as longtime local favorites: Flathead cherries and huckleberries.
A drive around Flathead Lake will take you past cherry orchards that line the lake on U.S. Highway 93 and Montana Highway 35. Each May, the cherry trees bloom and fill the orchards – and the accompanying drive – with gorgeous blossoms. In the height of summer, you can snag locally grown fruit at roadside stands around the lake and at farmers markets. If you're hiking in the mountains around the region, keep your eyes open for Montana's most beloved purple berry, the huckleberry. While these small purple berries only grow in the wild at certain elevations, you can find them in a variety of offerings, from taffy to ice cream and lotions to BBQ sauces. Reminder: if you are picking your own huckleberries, be sure to be bear aware, as many grizzly and black bears rely on wild berries as part of their diets.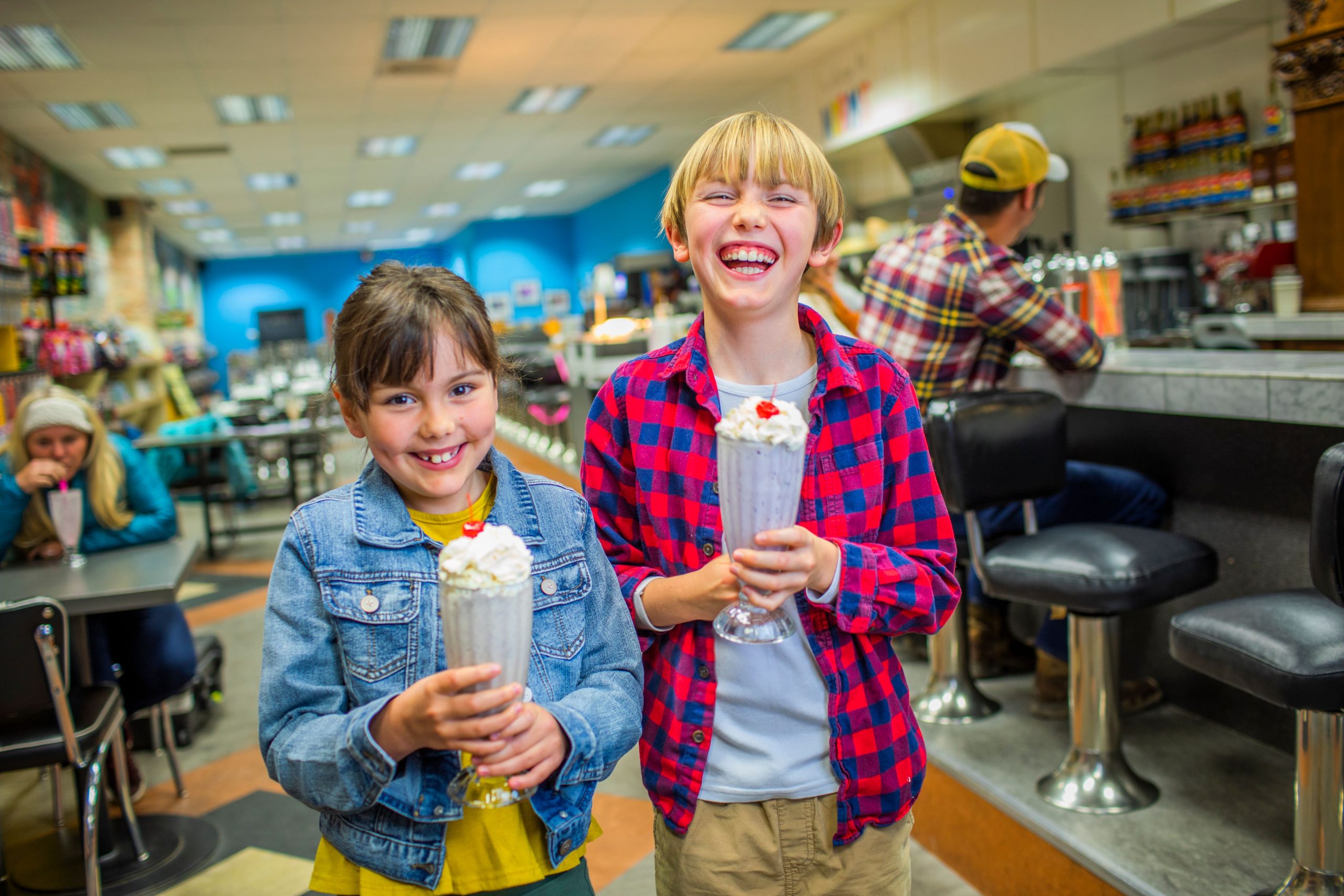 Drink Montana
Local craft breweries produce more than 40 varieties of ales and lagers made with Montana-grown barley, hand-picked local hops and the best flavors of the area–huckleberries and Flathead cherries. In addition to breweries, you'll also find local distilleries that serve up small-batch spirits – like whiskey, gin, absinthe, rum and vodka – that are handcrafted in the shadows of the Rocky Mountains. Meanwhile, you can also enjoy wines at MontaVino Winery and Water's Edge Winery & Bistro, or taste a made-right-here craft cider at Big Mountain Cider.
No matter the time of year you visit, you're sure to find the perfect refreshing, cozy or relaxing drink to end the day. When the temperature starts to drop and the snow starts to fall, there's no better way to warm up than by sipping on a hot drink made by one of Kalispell's mixologists or baristas.
Warm drink lovers of all ages are welcome at Norm's Soda Fountain for apple cider and hot chocolate, Ceres Bakery – where you'll find fresh-baked goodies and coffee, espresso, tea and steamers – Sable Coffee for caramel apple cider, hot chocolate and steamed milk, and Bonelli's Bistro for tea, coffee, espresso and steamers. For an adult beverage, enjoy an apple cider with spiced brandy at Brannigan's Irish Pub or a mulled wine at MontaVino Winery.
Creative and cozy adult beverages can also be found at area distilleries. Try a Montana coffee (made with Harvest Select Whiskey and fresh coffee) and CHAI (hot chai tea with Hibiscus Coconut Rum). Or, after playing in Glacier National Park or the Flathead National Forest, stop into Glacier Distilling Company and sip on a North Fork Whiskey hot toddy or Yak's milk, made with their own Cabin Fever Brandy.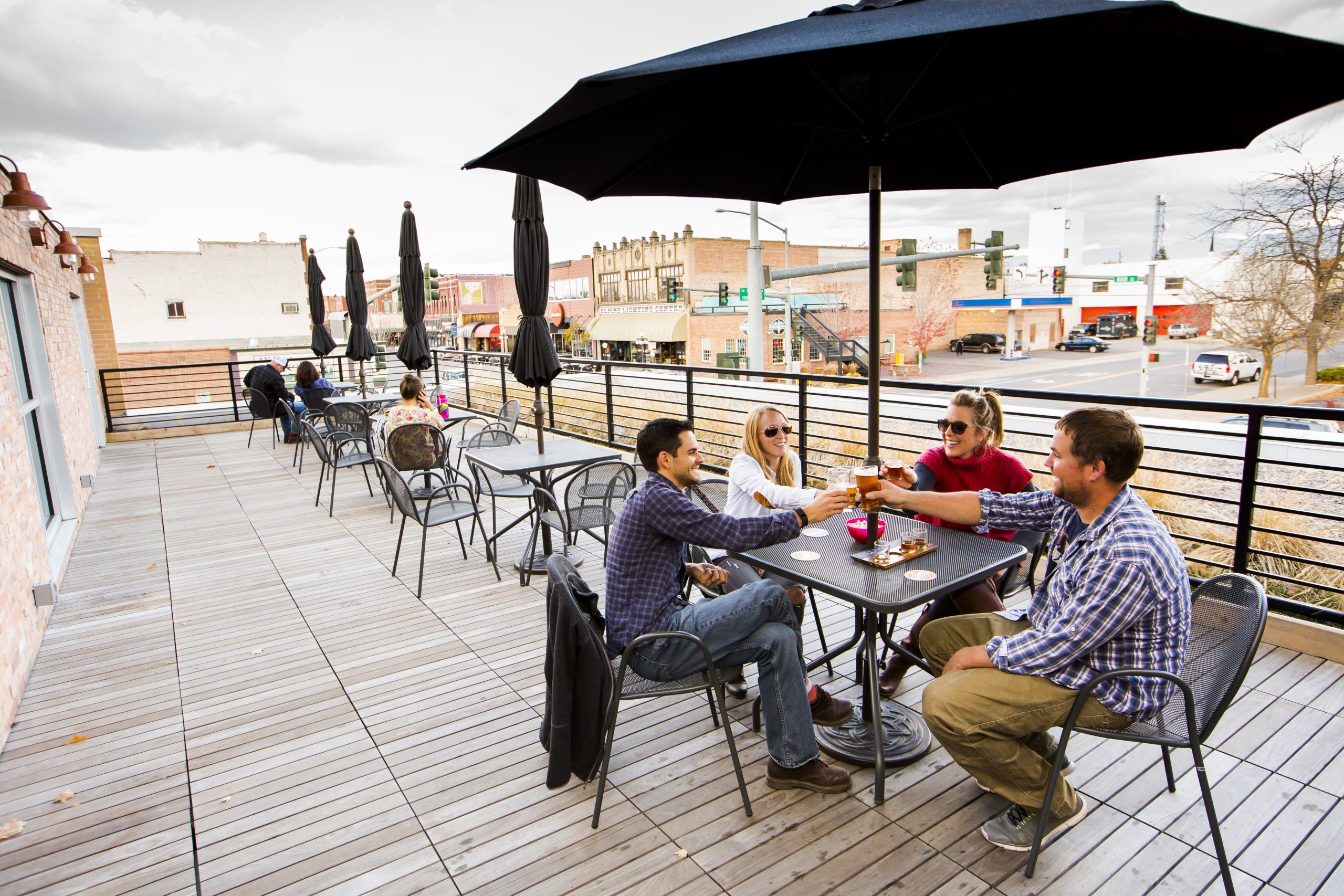 Where to Eat & Drink in the Flathead Valley
Kalispell and northwest Montana's restaurants and watering holes are available on a variety of delivery apps, such as Delivery.com, DoorDash, Grubhub and Uber Eats.