Recreate Responsibly
Your Guide to Enjoying Montana's Outdoors Safely and Responsibly
It takes all of us working together to keep Montana wild, beautiful and pristine. Here in Kalispell, we've always been big advocates of responsible travel. Since our mountain town is in one of the most stunning places in the United States, it seems fitting that we do our part to help take care of it, including sharing information with visitors and residents about how to #RecreateResponsibly.
Kalispell, the soul of Montana, is within easy reach of Montana's natural wonders, from the 185 miles (297 kilometers) of shoreline around Flathead Lake to trails that weave in, around and through public lands like Glacier National Park and the Flathead National Forest.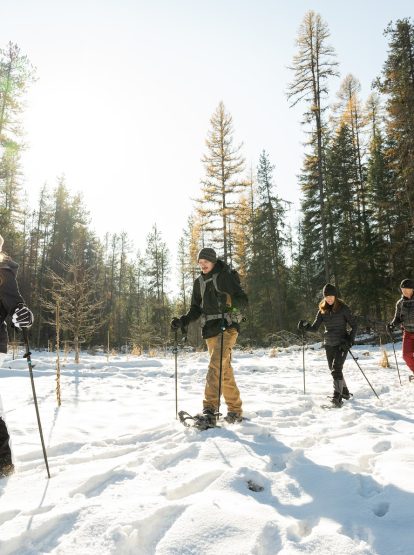 How to Recreate Responsibly in Winter
As seasons change, so do our recreational activities. To stay safe and help protect the places we play during winter, there are six rules to help you recreate responsibly and stay safe.
Learn More
Volunteer in Kalispell
Volunteering is a great way to experience the local culture and give back to a community, all while having a transformative experience that fosters personal growth, development and new connections.
Read More
Get the Guide
Start planning your trip to Kalispell and northwest Montana with our free travel guide. Inside you'll find year-round options of places to stay, things to do, insider tips, advice on visiting Glacier National Park and the best of downtown Kalispell.
Sign up
The Latest on Wildland Fires and Air Quality
When summer starts to come to an end, most years that means fire danger spikes to a HIGH. Conditions may become hazy and air quality can fluctuate. Don't worry, we have all the information you need to know in one place.
Read More
Let's Stay in Touch
From seasonal travel itineraries to insider tips, we've got what you need.
"*" indicates required fields